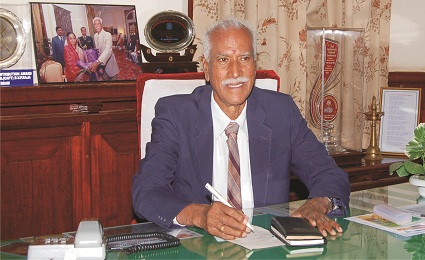 Dr. (Capt) D.V.P Raja
Born of agriculturist parents in a small town  of Rajapalayam Dr. (Capt) D.V.P Raja is a self-made man of  80 years who has been fighting throughout his life for the upliftment and betterment of society in general and the elderly in particular.
A turning point in his life occurred, when he was just 10 years of age through a divine moment which blessed him with a meeting of one gentleman Nallakutralam Pillai, a renowned social worker of those days who proved to be a source of inspiration and sowed the seeds of social service into the tender mind and heart of a budding social activist. The candle thus lighted at age of ten was made to glow still brighter like the star of first magnitude in the firmament of social service by Rev.Fr. Bonhoure of St. Xavier's College, Palayamkottai, Tirunelveli where Raja pursued his UG course in 1955 – 59. As the second source of inspiration he was instrumental in extending social service activities beyond a limited circle by elevating him to the level of General Secretary of Social Service Club of the reputed St Xavier's College.That the true concept of social service is not confined to the four walls of a college campus but has to reach the last man in the society was taught to him by Prof. S. Ramanathan, an illustrious teacher and Dr. G.R. Damodaran, the Director & Founder of PSG Educational Institutions where Raja pursued PG Course in Social Work. It is they who guided him in the right direction by encouraging him to do a microscopic analysis of beggar problem in Tamil nadu in general and Coimbatore in particular. The extensive and exhaustive survey of the problem was successfully completed when Raja completed Post Graduate Studies in Social Work in P.S.G College of Social Work.
In the year 1962 when, China attacked India, Emergency was declared. All Indians united together to defend our Nation. At that time, with patriotic spirit he joined Indian Army and served as Captain during Chinese (1962) and Pakistan (1965) wars. After emergency he left millitary service just to establish a College of Social Work to inculcate the spirit of service in the minds of the youth. In the year 1969 on 2nd October, coincident with the birth centenary day of Mahatma Gandhiji, the Father of the Nation, Madurai Institute of Social Sciences was founded and his long desire was fulfilled. He served as Principal of the College for more than 4 decades and, he moved with students so closely and accepting them as they are with their strength and weakness.
Now Madurai Institute of Social Sciences is a multi-faculty college  and research Centre, and was accredited with B ++ by NAAC in 2007and achieved Autonomous status in the year 2009.  The college was Re-accredited with 'A' Grade by NAAC in the year 2014 and got extension of Autonomy in the year 2016.The college presently offers 3 Post Graduate, 7 Under Graduate,  3 Diploma,  two M.Phil and Ph. D programmes. The college offers Diploma in Health Care under the UGC Community College scheme in the year 2014. Our Founder - Chairman is instrumental behind the success of the college.